Expand your robotic aquarium with the new HEXBUG AquaBot Seahorse! This water-born Seahorse uses its curly rubber tail and elegant back fin to gracefully swim and bounce around inside any fish tank. Want your Seahorse to dive deeper? No Problem! For the first time ever, users can adjust the HEXBUG AquaBot's buoyancy (using adjustable weights in battery door). With a powerful impeller motor to spin and swim gracefully the Seahorse can dive even deeper!
Waking up your HEXBUG AquaBot Seahorse is easier than ever! Thanks to its hi-tech sensors, users can wake up their underwater friend in 3 different ways: simply run your fingers through the water, touch the Seahorse, or tap on the side of the tank. After several minutes of swimming, the HEXBUG AquaBot Seahorse will go into sleep mode to save battery life.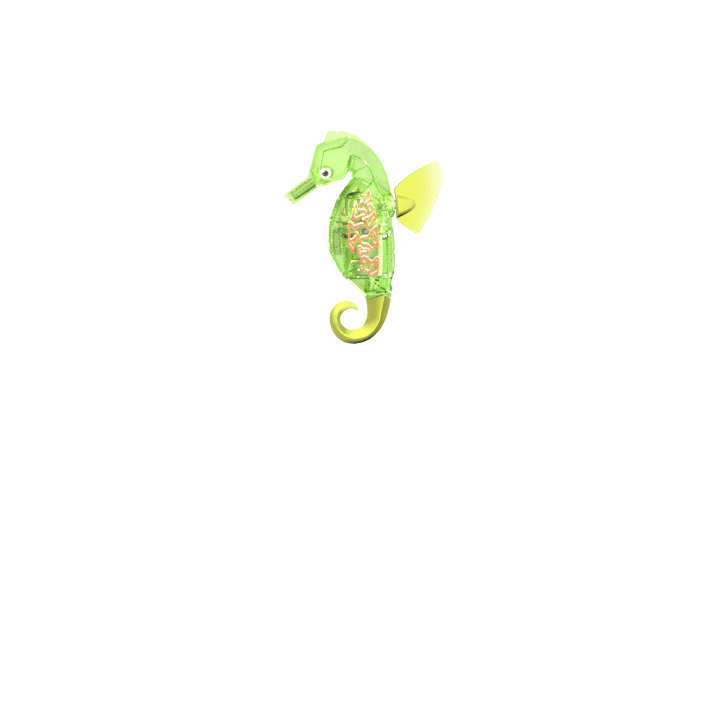 The HEXBUG AquaBot Seahorse is available in 5 translucent colours. Colours are selected randomly at the time of shipment based on availability. Collect them all!
The HEXBUG AquaBot Seahorse requires 2 Button Cell batteries (included) and is recommended for ages 3 and up.